Sales
Library Model Request
Technical Support
Installation Instruction for Standalone (Green) USB Key
Minimum System Requirements
PC running Windows 7 or newer Desktop Operating System
Intel or AMD Processor
40 GB minimum hard disk space
4 GB of RAM
Recommended System Requirements
PC running Windows 7 or newer Desktop Operating System
Intel i7 Processor
Dual monitors
120 GB+ solid state hard drive
8 GB of RAM
What is the Hardware Key?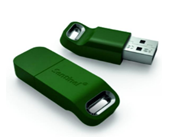 The hardware key protects your investment and ours, and allows multiple people to use the software without violating the license agreement. Your PTW software will include one of these keys, and will not run without it. However, once you have installed the key, you can forget about it
.
The key does its job automatically.
Installing PTW

1. Log on to your computer with Full Administrative Rights.
Insert the PTW CD into your CD-ROM drive or run the setup file from our website (
www.skm.com
and click on Downloads). The following window will appear: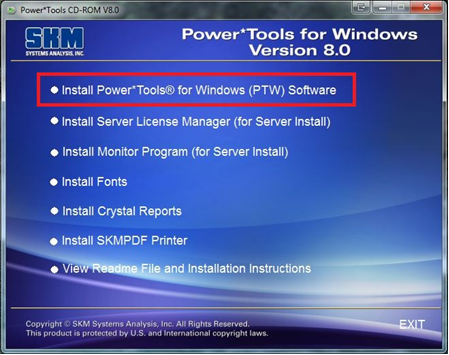 2. Click the "Install Power*Tools for Windows (PTW) Software" option.
(Note that the other options are not required to be installed unless directed by SKM Technical Support.)

4. Once the installation finishes, attach the hardware key to the USB port of your computer.
5. Try running PTW32. If PTW runs afterwards, you have completed the setup.
If a Network Log-in dialog box appears, then it means that the key was not recognized and PTW will not run (once you click the OK button on the Network Log-in dialog box, you will be told that "the hardware key was not found" after the time-out period). At this point, run C:\PTW32\bin\HASPUserSetup.exe and start PTW again.
Windows Remote Desktop is not supported. Accessing a HASP key over RDP will not work because RDP is a terminal session. A server will allow multiple terminal sessions. Because the key cannot detect how many sessions are in progress, the key will be disabled for security purposes. Otherwise, users can log into unlimited sessions and use PTW on each session, defeating the security.