Sales
Library Model Request
Technical Support
Error: SKM hardware not returning correct codes
Is there any reason why I can't run anything. All it's letting do is make one lines. Below window is the message I get when I try to do anything else.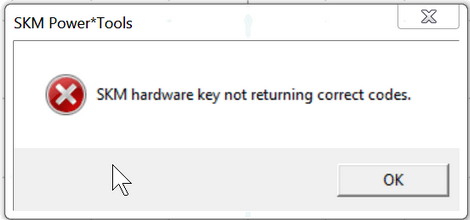 NOTE: SKM driverless key timeout every 8 hours.
Solution:
Please close the software and re-open it. That should eliminate that error message and let you use all your modules.
The hardware key timed out.
Update:
The idle timeout can be set on the admin control center->Configuration->Basic Settings between 10 mins to 720 mins (12 hours).